Barix Audio Over IP

for broadcasters, integrators, educators, and more
Affordable and Simple to use Network Audio devices that are used to send audio signls and streams from Point A to Point B over existing network cables and internet connectivity. Barix manufacturers the Instreamer, Exstreamer, and Annuncicon Audio over IP products.

Smart Home and Building Systems

smartphone home control and specialty building applications
Are you looking for Global Cache devices to control your home with iPad, iPhone, Tablet or Android Phone? We've got them.
Looking for something more specialized to control your home or building? Give us a call.

Smart Home and Building Design and Consulting Services

Home Control Canada offera a wide range of services related to the conception, design and impementation of yor smart home building project.
- Systems Concept Consulting for Specialized Applications - Communications and Control Infrstructure Design - Systems Design & Testing

Visit Our On-Line Store for Instant Purchases for Barix products, Global Cache iTach, and more........

simply click on the icon above
Updated WEBSTORE to make your buying experience better - find the product you need faster!
September 6, 2011
We have simplified the shopping experience at our webstore to mae it easier to find the products you are looking for quickly and easily.
In addition to our featured brands, Home Control Canada can also supply the missing components from your installationt.
Control 4, AMX, Crestron, and iCasa Dealers in Canada:
We have many of the proven 3rd party hardware devices you are looking for. Please browse our site and call us for details

Global Cache - connect any device to any network.

connect any device to any network...

These connectivity products are cost effective, easy to use, and easy to include in your automation and control environments using whichever control and automation software you choose, including iOS (iPad, iPhone, iPod touch) and Android devices. Heck, you can even write your own front end.
ITach Wireless
ITach Wired
GC-100 Series
IRL Code Learner
Other Accessories

Barix IP Audio Solutions

affordable, reliable, game changing...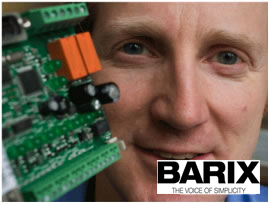 BARIX products include a range of devices which can be connected locally via standard networks or via the Internet, offering innovative, low-cost, pc-free solutions for audio over IP applications (transmission and monitoring of audio signals), communications (intercom) and automation tasks (decentralised control, monitoring and maintenance operations).